Сonstructor online store for free with the application for your customers
Have you already seen how is convenient and easy to create an online store with barcode2store? So that your customers do not go to competitors, we take care of them. How?
We have created an online store application for your customers. After creating the trading platform, buyers will choose you. Why? Because in just a few clicks they will own all the information they need. And note that they will receive it absolutely free.
Ready online store for free with a smart app for buyers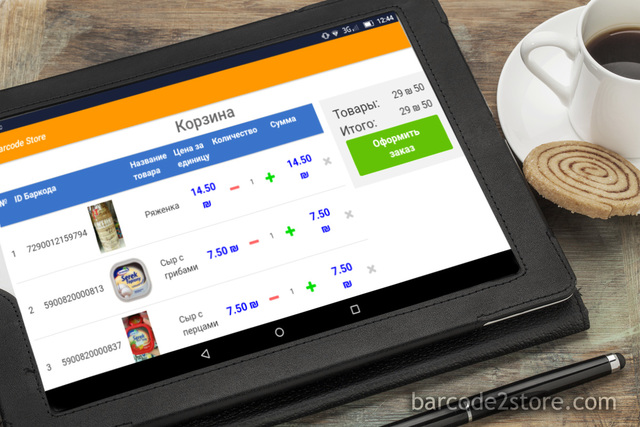 We offer see the benefits for your customers when they use the free app for the online store:
An online store with a guide application will help the buyer calculate the preliminary purchase price and get timely information about discounts and promotions. Having typed the desired product in the search, the client will not only find it, but will also receive a reminder of its purchase.
A mobile device is almost always at your fingertips. It will not be difficult for him to take advantage of the purchase from his smartphone on the road or while walking with his wife and children.
The platform for creating an online store with an application for customers simplifies and reduces the time spent on searching for goods, placing orders, paying and delivering goods. And if your customers love simplicity, then our application will be a real find for them. The application interface was developed so that even the person who is not too friendly with mobile devices could understand it.
Creating an online store cost justifying means and efforts
Your benefits as an online store owner are obvious. You create a trading platform without programming knowledge, on a ready-made engine, according to a specially selected template. By launching a ready-made online store, you collect a database of satisfied customers, creating all the necessary conditions for them.
You manage the store using the app and provide a free app for customers. Please let us know about any questions you have.
Be sure that now your online store business will work for you, not you for it!